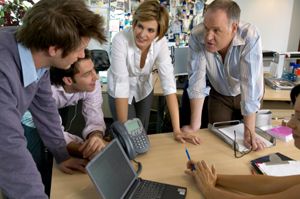 We love what we do. The passion we have for our work enables us to take ownership of our clients' projects. We constantly strive to deliver the highest-quality products possible.
There is no greater satisfaction than delivering a finished product that helps a client reach their goals and objectives. To learn more about our approach to customer service, follow the provided links for more information.
Our Mission And Promise To You
Our mission is to provide you with the highest-quality products and services possible in a timely fashion and at a competitive price. We promise to listen to you and help you achieve your business goals. We will always be there with honest, expert advice and quick, friendly customer service.
Our goal is to meet and exceed your expectations.
People - Our Most Important Asset
We pride ourselves on being a complete source for all of your pre-press, commercial printing and wide format printing needs, and have always been on the leading edge of technology. We are proud to have been beta testers and helped in product development for the graphics industry with such companies as Scitex, Creo, Kodak, Monaco Color and EFI. This has placed us among the most knowledgeable companies in the country when it comes to color management.
However, great technology still requires people with skill to produce the best results. Our crew consists of an exceptional group of people, many of whom have over 20 years experience in printing and pre-press. We know what it takes to do excellent work and always take the greatest care to provide you with a superior product, on time, and at a fair price.